CRS Guest Lecturers
Coming soon:
VSS 2013 - Keynote Speaker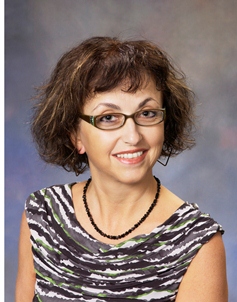 Dora
Angelaki, Ph.D.
Dept of Neuroscience, Baylor College of Medicine
Saturday, May 11, 7:00 pm, Royal Ballroom 4-5
Biography
Dr. Angelaki is the Wilhelmina Robertson Professor & Chair of the Department of Neuroscience, Baylor College of Medicine, with a joint appointment in the Departments of Electrical & Computer Engineering and Psychology, Rice University. She holds Diploma and PhD degrees in Electrical and Biomedical Engineering from the National Technical University of Athens and University of Minnesota.  Her general area of interest is computational, cognitive and systems neuroscience.  Within this broad field, she specializes in the neural mechanisms of spatial orientation and navigation using humans and non-human primates as a model.  She is interested in neural coding and how complex, cognitive behavior is produced by neuronal populations. She has received many honors and awards, including the inaugural Pradal Award in Neuroscience from the National Academy of Sciences (2012), the Grass lectureship from the Society of Neuroscience (2011), the Halpike-Nylen medal from the Barany Society (2006) and the Presidential Early Career Award for Scientists and Engineers (1996). Dr. Angelaki maintains a very active research laboratory funded primarily by the National Institute of Health and a strong presence in the Society for Neuroscience and other international organizations.
Featured Products