BOLDscreen 32 LCD for fMRI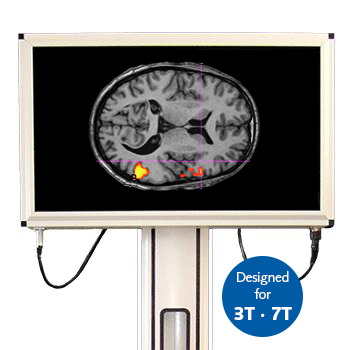 Questions about the BOLDscreen 32?
Designed for 60 and 70cm bores, the premium 32" 1920x1080 widescreen LCD display features up to 16-bit RGB colour control, 1400:1 contrast ratio and 120Hz panel drive.
Our BOLDscreen monitors are the only "MRI Compatible" MR Safe displays with no time lag, integrated sensor for luminance calibration and, of course, no interference with the scanner, even when positioned right at the exit of the bore.
M0135C BOLDscreen 32 Datasheet
Guide Price: £16000
SKU: M0135
See BOLDscreen 32 at RSNA 2018
25th - 30th November at McCormick Place, Chicago
See BOLDscreen in action at booth 5157 in the South Hall at The Radiological Society of North America's 104th Scientific Assembly and Annual Meeting November 25- 30 at McCormick Place in Chicago.