High-Speed Video Eye Tracker Toolbox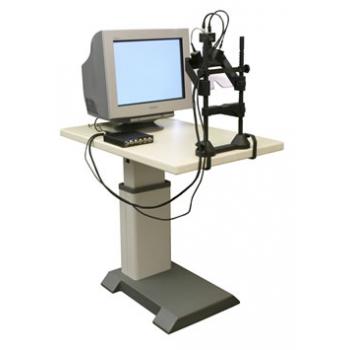 The High-Speed VET is a legacy product that's ideal for oculomotor research. Features include:
Low noise, drift free measurements

Better than 0.25

°

 at 250Hz

Stereo option: contact CRS for details
Though not available for purchase any more, the High-Speed VET is still fully supported by Cambridge Research Systems. This legacy page will include technical data, downloadable firmware updates as well as installation information. For a full list of our publications using the High-Speed VET, click on the "Sites Installed" tab.
The High-Speed Video Eyetracker Toolbox offers unique value for high performance video eye tracking. Based upon our acclaimed video eyetracker engine, the HS-VET is an oculomotor research tool which is both simple to use and makes accurate, low noise, drift free measurements, with no dropped frames. Here are some typical results, plotted using MATLAB: 
The HS-VET Toolbox provides simple to use software tools to integrate eye movement recording into laboratory software systems using less than a dozen lines of program code. The videoEyetrace application supplied with the system incorporates eye movement recording and visual stimuli presentation for common eye movement research applications.
The HS-VET incorporates unique hardware features for interfacing the to other equipment. Analogue and digital inputs can be used to synchronizing external events, when measuring saccadic latency, for example. The HS-VET can be used with the ViSaGe visual stimulus generator. Depending on the experiment requirements they can be run on a single host PC, or two PCs, and in either case a 3 bit marker from the ViSaGe can be overlaid on the eyetracker data to give precise stimulus timing information.
Applications
Oculomotor Research
Applications where a precise knowledge of fast eye movement dynamics is required, eg saccadic gain, duration, and peak velocity.
Can be used an alternative to a search coil in many applications
NEW: Stereo capability
Coming soon: integrated solutions for saccade contingent displays
Other applications
There are many different methods of recording eye movements: Cambridge Research Systems offers a selection of the best innovative technologies for many applications. Please see our eyetracker overview, or contact us to discuss your needs.