MR Confon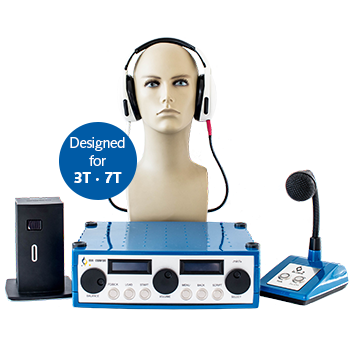 Questions about MR Confon?
MR Confon is a modular auditory solution that provides both research and clinical users versatile control over auditory stimulus presentations. It offers the flexibility to choose from various headphone designs, microphones, and bespoke amplifiers.
Guide price includes Starter f mkII control box, control room microphone and speakers, as well as one pair of MR Compatible headphones or earphones. Many options are available at a range of lower and higher prices, so please contact us for more details.
MR Confon is now part of BOLDfonic 
Please click here to be redirected to up-to-date BOLDfonic product information
Our audio solution for MRI compatible headphones and earphones utilises advanced engineering to provide advanced, full-range electrodynamic headphones which employ the scanner itself to provide the magnetic field required by the audio transducers. This technique, together with provision to cancel any external field caused by the audio modulation, results in a range of premium-quality transducers which may be employed freely within the magnet as conventional circumaural headphones or via earplugs connected via very short air-tubes.
Our modular audio and bi-directional communication solution doesn't just suppress MRI-related acoustic noise; it can also be used to deliver calibrated auditory stimuli for fMRI. A compact scanner operator microphone sited in the console room can be combined with an Optoacoustics noise-cancelling version mounted to the headphone to provide clear, simultaneous, bidirectional communication.
Bespoke stereo amplifiers are perfectly matched to the filter set and headphones; all designs have digital optical inputs to connect the signal source. They are easy to operate for routine clinical use, yet still offer sufficient flexibility and control of auditory stimuli for fMRI. The comprehensive Starter f mkII+ design can drive two headphones, external speakers, and supports a participant microphone. It has a digital I/O interface to support direct integration with the MRI scanner and third-party equipment like AudioFile. It can even be controlled from a computer.
Combined with flexible and powerful digital-signal-processing, the MR Confon audio solution provides the ultimate in audio quality and comfort in all MRI applications.