932 Interface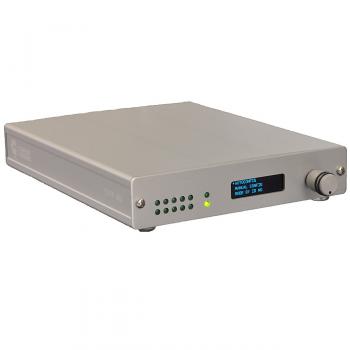 Versatile 32-channel electronic interface for use with all fiber optic pointing devices and response boxes. It's the product of 13 years of feedback and includes many advanced featuresThe opto-electronic interface receives optical signals from the handheld devices in the MR suite, and converts them into electronic signals for the computer. This is our top of the line model.
In keeping with our earlier interface units, the 932 is standards-based: its outputs are not designed to be used with a specific program or hardware platform but are instead designed to work with everything.
Bright display for configuration - simplifies setup
Automatic handheld device identification - speeds up setup 
Optical triggering - no need to have an optical-TTL converter
Faster everything - better timing, improved responsiveness
32 channels with automatic gain adjustment and response device identification
Internal programs (firmware) are locally upgradeable through the USB connection
Aluminum enclosure 7 x 5.5 x 1 in. (17.8 x 14 x 2.5 cm)
User Interface
A bright OLED display guides the user through available mode choices
Selections are retained and become active again on subsequent power-ups
Button states and triggers are indicated with LEDs (for up to 10 buttons)
Outputs
The primary output for most users is the full speed USB output which simplifies interfacing to any hardware or program
RS-232 serial and TTL parallel outputs are also available for special interfacing needs and for support of older programs and computers
Inputs
12-way optical port connects with any of our existing handheld devices. Most devices are automatically recognized and calibrated, which streamlines setup and changing configurations.
Both optical and TTL triggers inputs eliminates need for an additional optical-to-TTL trigger converter box.
Response Device Compatibility
Supports all ("HHSC-") response devices. Also supports legacy ("HH-") devices.
This device is not for use inside the magnet room: it contains metal and electronic components.