BOLDscreen 32 LCD for fMRI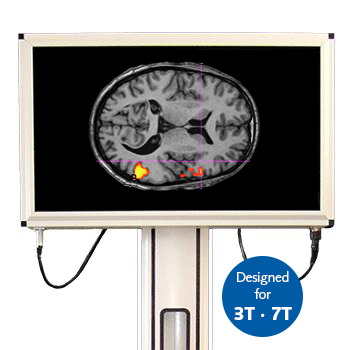 Questions about the BOLDscreen 32?
Designed for 60 and 70cm bores, the premium 32" 1920x1080 widescreen LCD display features up to 16-bit RGB colour control, 1400:1 contrast ratio and 120Hz panel drive.
Our BOLDscreen monitors are the only "MRI Compatible" MR Safe displays with no time lag, integrated sensor for luminance calibration and, of course, no interference with the scanner, even when positioned right at the exit of the bore.
M0135C BOLDscreen 32 Datasheet
Guide Price: £17500
SKU: M0135
Easy to install and integrate
Positioning BOLDscreen 32
BOLDscreen 32 is designed to provide maximum field of view when sited at the rear of a 70cm MRI bore, or you can place it anywhere else in the room. An adjustable tripod is supplied as standard, and other stands and mounting options are available to suit your needs.
Filter Panel
Video Signal
A 30m fibre cable passes through a waveguide and carries the digital video signal to the BOLDscreen 32 AVI video matrix switch located in the control room.
Power
A compact Voltage Converter Unit is installed through a BNC sized hole in the penetration panel. This is connected to a high-quality medically approved Power Supply Unit located in the control room. A low-voltage DC signal powers the BOLDscreen 32 monitor: a 10m cable is provided to connect the monitor enclosure to the Voltage Converter Unit.