BOLDscreen 24 LCD for fMRI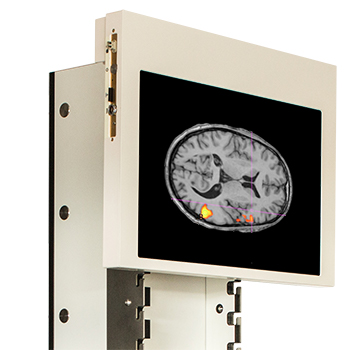 Questions about the BOLDscreen 24?
BOLDscreen 24 has been engineered from the ground up to provide the superior image quality necessary for vision research: super high brightness, high contrast, high resolution visual stimuli.
Our BOLDscreen monitors are the only "MRI Compatible" MR Safe displays with no time lag, integrated sensor for luminance calibration and, of course, no interference with the scanner, even when positioned right at the exit of the bore.
"BOLDscreen provides an absolutely fabulous image and our testing shows no artefacts whatsoever." - The NeuroImaging Center, Rijksuniversiteit Groningen.
 M0131 BOLDscreen 24 Datasheet
Guide Price: £14500
SKU: M0131
Easy to install and integrate
BOLDscreen is designed to provide maximum field of view when sited at the rear of the MRI bore. A 20m DVI Over Fibre video cable and a bespoke in-room power supply make BOLDscreen quick and easy to install and connect to standard computers sited in the MR Console Room.