BOLDscreen 24 LCD for fMRI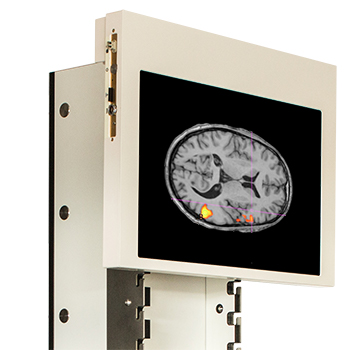 Questions about the BOLDscreen 24?
BOLDscreen 24 has been engineered from the ground up to provide the superior image quality necessary for vision research: super high brightness, high contrast, high resolution visual stimuli.
Our BOLDscreen monitors are the only "MRI Compatible" MR Safe displays with no time lag, integrated sensor for luminance calibration and, of course, no interference with the scanner, even when positioned right at the exit of the bore.
"BOLDscreen provides an absolutely fabulous image and our testing shows no artefacts whatsoever." - The NeuroImaging Center, Rijksuniversiteit Groningen.
 M0131 BOLDscreen 24 Datasheet
Guide Price: £14500
SKU: M0131
Designed from the ground up for fMRI
Display Characteristics
H-IPS LCD: 24", 1920 x 1200, RGB colour with fixed 60Hz frame rate
Active area: 518.4mm x 324.0mm (0.270mm pixel pitch)
Native 8-bit colour resolution, true colour 16.7 million display
Light output is synchronous to the input video signal
Digital DVI video input delivers high fidelity noise-free displays
SuperBright white LED matrix backlight, peak white up to 800cd.m-2
Typical contrast ratio 1000:1
Typical spatial uniformity 2% over central 75% of display area
Typical grey-to-grey response time 5ms
Normal switching frequency of the backlight is 75kHz (synchronous to horizontal rate)
Automatic compensation of brightness for temperature and ageing (factory set to maintain 400cd m-2)
Video Input: 1920x1200 pixels, digital DVI, 60Hz, 24-bit RGB
Display Dimensions
Dimensions: 620 x 445 x 70mm
Weight: 16.5kg
Tripod Dimensions
BOLDscreen is supplied with an MR Safe tripod. An MR Safe trolley is available at additional charge.
Height adjustable: 1000 – 1800mm
Weight: 2.5kg
Power Supply
Mains Input: 100 to 240Vac nominal, 50 or 60Hz, 150w.
Output: 5, 15 and 35 to 45Vdc.
Fuses: HBC T3.15A / 250VAC
Dimensions: 282 x 187 x 75mm
Weight: 3.75 kg
Cable Lengths
Optical Fibre: 20m single-link DVI with integrated transmitter and receiver
DC Power Cable: 10m
Mains Power Lead: IEC to appropriate mains plug, 2m
System Environmental Conditions
Indoor use only
Operating Temperature: 0°C to +30°C
Cooling: Convection-cooled
Operating (or Storage Humidity up to 40°C) : 10-90% RH, non-condensing
Storage Temperature: -20 °C to +60 °C, 40% RH
MR Safety
BOLDscreen is categorised as MR safe in accordance with the labelling requirements of ASTM F2503-08 ("an item that poses no known hazards in all MR environments"). See FAQs.
The power supply and cables are MR conditional ("an item that has been demonstrated to pose no known hazards in a specified MR environment with specified conditions of use").
EMC
BOLDscreen has no observed effect on functional and structural MRI scans at 3T, even with screen located at exit of scanner bore, and no effect on displayed image whilst scanning. See test data.
Emissions: EN55011 class B conducted & radiated
Harmonic Currents: EN61000-3-2 class A
Voltage Flicker: EN61000-3-3
ESD Immunity: EN61000-4-2, level 3 contact, Perf Criteria A
Radiated Immunity: EN61000-4-3, level 3, Perf Criteria A
EFT/Burst: EN61000-4-4, level 2, Perf Criteria A
Surge: EN61000-4-5, installation class 3, Perf Criteria A
Conducted Immunity:EN61000-4-6, level 3, Perf Criteria A
Magnetic Field (limit applies to PSU only): EN61000-4-8, 3 A/m, Perf Criteria A
Dips & Interruptions : EN61000-4-11, 30% 10 ms, 60% 100 ms, >95% 5000 ms
Perf Criteria A, B, B
Safety Conformance
Type B equipment in accordance with EN60601 for devices in the patient environment.
EN60601-1, Type B Equipment, Class 1