BOLDscreen 24 LCD for fMRI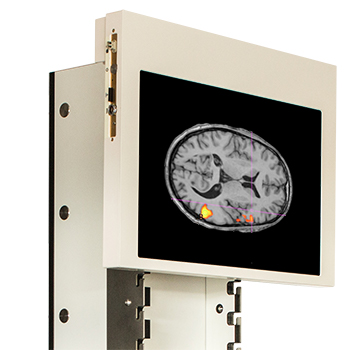 Questions about the BOLDscreen 24?
BOLDscreen 24 has been engineered from the ground up to provide the superior image quality necessary for vision research: super high brightness, high contrast, high resolution visual stimuli.
Our BOLDscreen monitors are the only "MRI Compatible" MR Safe displays with no time lag, integrated sensor for luminance calibration and, of course, no interference with the scanner, even when positioned right at the exit of the bore.
"BOLDscreen provides an absolutely fabulous image and our testing shows no artefacts whatsoever." - The NeuroImaging Center, Rijksuniversiteit Groningen.
 M0131 BOLDscreen 24 Datasheet
Guide Price: £14500
SKU: M0131
BOLDscreen has no effect on functional or structural scans
BOLDscreen is encased in a custom aluminium enclosure, and uses passive cooling. Its unique MRI-shielding makes it the only display which can safely be placed anywhere within the scan room. We recommend positioning BOLDscreen directly at the exit of the scanner bore - at this position its screen size is optimised to give maximum field of view, for a 60cm bore.
BOLDscreen has no observed effect on functional and structural MRI scans at 3T, even when located at directly at the exit of scanner bore, and no effect on the displayed image whilst scanning. This is demonstrated by the results shown below, which were performed in a 3.0T HDx GE Scanner with 8 channel receive-only RF headcoil.
RF Spike Test with no BOLDscreen or power supply present
RF Spike Test with BOLDscreen actively presenting images close to scanner bore
EPI Testing